Lessons from the Movies about Money and Life
By James W. Bryan, November 10, 2022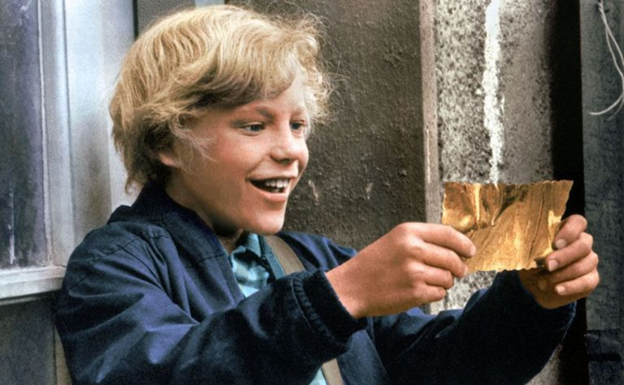 I love movies. They take us on adventures, make us laugh and put us in suspense. I also appreciate the lessons that so many of them give us.
Ever wonder why someone hates a movie that you love and vice versa? I believe that your experiences and maturity shape how you see the world and how you appreciate a film.
In addition to my own life experience, I now see motion pictures through the lens of a financial planner with over two decades of exposure to many life events big and small, that I likely would not have encountered had I chosen a different profession.  
Here is my list of five movies that everyone should see for lessons to learn about money and what's most important in life. Note to readers, this blog is littered with spoilers so consider yourself warned!
The Descendants (2011)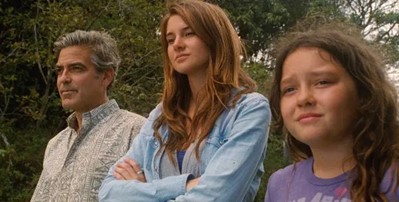 The wealthy have problems too                                                      
If you google "who buys lottery tickets," you will discover that low-income populations are the primary buyers. Despite the overwhelmingly bad odds, thousands of people who struggle to make ends meet spend a large amount of their money on the Lotto with hopes of escaping their situation and making all of their problems go away with an instant jackpot. But something I have learned in my years of financial advice is that wealth can eliminate many problems, but it also creates complexity, and it certainly doesn't protect you from pain or sorrow.
In his best onscreen performance, George Clooney portrays Matt King, a wealthy attorney who is married with two children and resides in Hawaii. His home is in crisis after his wife, Elizabeth, suffers a life-threatening injury from a boating accident. She is comatose and living on artificial life support.
Until the accident, Matt had dedicated much of his time to his law practice while his wife socialized and parenting his two rowdy daughters was delegated. Now he must manage it all on his own.
In addition to the trials within his own home, Matt has been appointed as trustee of virgin coastal land on the Island of Kauai that has been owned by his family for generations. This land is sacred to him and his own family, but he is under overwhelming pressure and legal threats from cash-strapped relatives who desperately want to cash in and sell the land to developers. 
Then, just when you think life has thrown every curveball in his direction, he discovers that there were serious unresolved issues in his marriage. Tragically, they will never be resolved as he faces the reality that Elizabeth will not awaken from her coma.
Rich or poor, we all encounter heartbreak in our lives. In the opening scene, Matt narrates and introduces his story to the audience. "My friends on the mainland think that just because I live in Hawaii, I live in paradise. Like a permanent vacation, we are all just out here drinking Mai Tai's, shaking our hips, and catching waves. Are they nuts? How can they possibly think our families are less screwed up, our heart attacks and cancers less fatal, our grief less devastating?"  
Why should you watch this movie? For starters, the laughs come about as frequently as the tears. Second, The Descendants is a slice of life film that takes you into the world of a father and two daughters who rise to the challenges that they face as a family. You are rooting for them from beginning to end.
All The Money in The World (2017)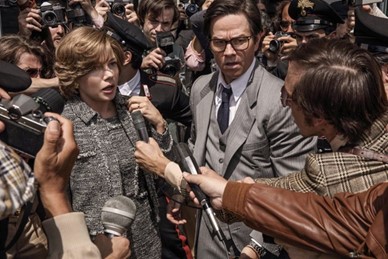 Know who you are negotiating with 
When oil tycoon J. Paul Getty passed away in 1976, he was among the wealthiest men in the world with an estate worth over $2 billion. Three years prior, his family was thrown into the international news headlines when an Italian organized crime ring kidnapped his rebellious teenage grandson Paul in Rome. All the Money in the World brings this story to the screen with legendary actor Christopher Plummer cast as the fiercely shrewd Getty. Demanding a payment of $17 million, the kidnappers were probably expecting quick delivery of the ransom money. Who would not fork over less than one percent of their net worth for the safe return of their grandchild? Considering the amount they were demanding could be replenished with one day's uptick in the price of crude oil, they must have assumed their monetary demand was chump change to the Getty Family.  
But in due time, the criminals find out why Getty became the man that he is, and they are no match for his business acumen when he refuses to negotiate. They are dealing with a man who has a tight grip on his money and wealth.
Based on the book Painfully Rich: The Outrageous Fortunes and Misfortunes of the Heirs of J. Paul Getty, this film takes you into this dark event where Paul's mother Gail, portrayed by Michelle Williams, becomes her son's lifeline between the abductors and his rigid grandfather.
As a side note, the Getty Trust (which inherited Getty's estate) oversees the Getty Art Museum and the Getty Villa in Los Angeles and holds the world's wealthiest endowment above $7.7 billion (as of 2020). Referred to as "The Getty," you can see many of his treasured collectibles and artifacts in this spectacular museum.
You may wonder why such a frugal individual would leave his beloved collection of treasured artifacts for the public to enjoy. For the answer to that question, you need to wait for the movie's ending.
It's a Wonderful Life (1946)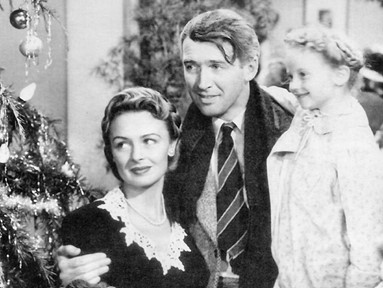 GoFundMe has always been a thing
Before our modern social safety nets, folks in small communities only had each other to count on when a neighboring family fell on hard times. Throughout history, there are many stories about townspeople joining together to help a neighbor facing foreclosure, a widowed parent, or a farmer whose barn was destroyed by fire.
Nowadays, when a family suffers misfortune resulting in great financial loss, their friends and neighbors can reach beyond the city limits thanks to GoFundMe.com.  
Which leads us to Frank Capra's It's a Wonderful Life, starring screen icon Jimmy Stewart as George Bailey, a man who has always put his family, friends and neighbors first.  
George owns the Bailey Building and Loan in Bedford Falls, a fictional small town in New York. The Baileys are the sole reason that families in the community have managed to buy a decent affordable home. However, disaster hits when he faces arrest for misappropriation of funds after his partner, the blunderous Uncle Billy Bailey, misplaces an $8,000 cash bank deposit one Christmas Eve.
Sadly, the cash has landed in the hands of Henry F. Potter, the meanest and richest man in town. Potter, who owns the only bank in Bedford Falls, has had his crosshairs on the Bailey family business for years since they are his only competition. Ridding the town of that do-gooder George Bailey would ensure that he is in full charge of all the lending and borrowing in the community.
Facing bankruptcy and prison, George concludes that his only asset, a $15,000 life insurance policy with a meager cash value makes him worth more dead than alive. He is convinced that it's time to end his life and that Bedford Falls would be a better place had he never been born.   
But news soon gets around that George is in deep trouble and before long, the townspeople rush to his home and deliver an epic showering of cash donations that far exceed the amount of the missing deposit money. 
It's a GoFundMe for the ages, and It's a Wonderful Life doesn't disappoint us.  
Thanks to the help of his guardian angel Clarence, George is given the great gift of seeing what the world around him would have become had he never been born. But there's much more; his wealthy former school buddy Sam Wainwright throws him a $25,000 line of credit (hee-haw!), the bank examiner forgets all about the missing funds and makes it back to Elmira in time to spend Christmas with his family, and Clarence the angel earns his wings for saving George.   
No man who has friends is a failure.
No Country for Old Men (2007)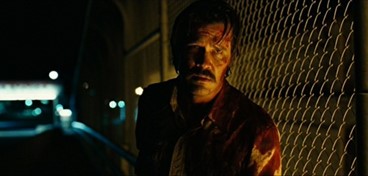 Finders keepers? Not really
An important lesson to teach our children – when you find a wallet full of cash on the floor of the department store, turn it in to the lost and found department. Just because you found it does not mean it is yours. 
Had such a lesson resonated with Llewelyn Moss, he may have never found himself running for his life. 
While hunting alone in a deserted West Texas landscape, Moss, portrayed by Josh Brolin, stumbles onto a heinous crime scene where an apparent drug deal has turned violent without any survivors. When he finds over $2 million in a briefcase, he decides to keep the cash and opt for early retirement.
Who knows what the result would have been had he alerted the authorities. It would have certainly made a more boring movie that nobody would watch. Regardless, Llewelyn finds himself in hot pursuit from Anton Chigurh who has been hired to retrieve the missing money. It's important to note that Chigurh, played by Spanish Actor Javier Bardem, is a ruthless and menacing villain who doesn't mind killing innocent bystanders just for kicks.  
Based on the book of the same name, No Country for Old Men is a cautionary tale of why it's critical to recognize that what's not yours is not yours.
Willie Wonka and the Chocolate Factory (1971)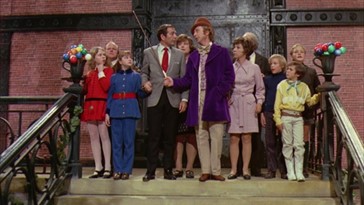 If you're not greedy, you will go far and live in happiness too ​​​​
Charlie Bucket, a young boy who lives in a tiny one-bedroom house with his widowed mother and four grandparents, has won the last of five Golden Tickets to tour the world-famous Wonka Chocolate Factory and receive a lifetime supply of chocolate. It's every child's dream, and kids worldwide were buying up Wonka Bars in hopes they'd unwrap one of the five hidden tickets.  
The other four winners, Veruca Salt, Augustus Gloop, Violet Beauregarde and Mike Teavee landed their tickets through help from their wealthy parents or just about any means necessary. Unlike Charlie, who must sell newspapers to help support his family, the other four are accustomed to having their immediate demands met by others.  
Once the five children and their accompanying adults are greeted at the front gate of the factory by the enigmatic and reclusive Willy Wonka, portrayed by Gene Wilder, they are taken on a tour where they discover a chocolate river, have access to all the candy they want and meet the Oompa Loompas from Loompaland. They are even introduced to Wonka's newest secret creation, the Everlasting Gobstopper. It's a candy for children with very little pocket money, because it never shrinks or loses its taste.     
Charlie doesn't have the assertiveness and confidence demonstrated by his four cohorts. Whether it's a lifetime supply of chocolate or a larger than ordinary goose that lays golden eggs, they have been taught all their lives that anything they want is theirs whenever they want it. But unbeknownst to himself, Charlie's lot in life has been a blessing in disguise and he soon discovers that the Wonka Factory Tour is more than just a tour. Rewards beyond a life supply of Wonka Bars await him.
I saw this movie in the theater at the age of five and have watched it with my wife and kids. It's a timeless treasure and enduring tale about why it is important to teach children to have patience, show humility and to be trustworthy.  If you do that they will go far and live in happiness too, just like the Oompa Loompa Doompety do!
Ready to watch and learn? For streaming, see the following subscription service providers:
The Descendants:  Hulu
All the Money in the World:  Apple TV
It's a Wonderful Life: Prime Video, Apple TV
No Country for Old Men:  HBO Max, Apple TV
Willy Wonka and the Chocolate Factory:  HBO Max, Apple TV
Source:  JustWatch.com
Picture sources, in the order they appear: Paramount Pictures, Fox Searchlight Pictures, SONY/TriStar, National Telefilm Associates screenshot, film-grab.com screenshot, film-grab.com screenshot