Planning Year-End Charitable Giving? Consider Communities of Color and Our Essential Workers
By James W. Bryan, November 10, 2020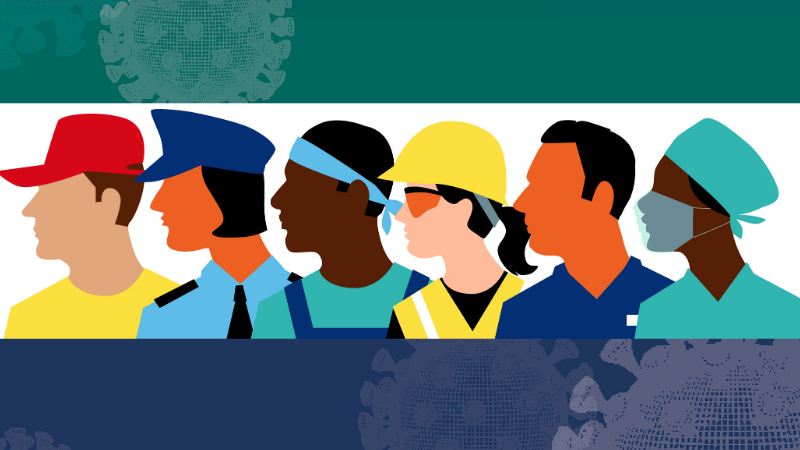 The coronavirus pandemic has changed the American way of life like few other events in our lifetime.  From school-age children to older adults, coping with the impact of the deadly disease has become an epic challenge to us all.      
There's reason for hope, since there's promising progress on the vaccine front.  While vaccine discovery might signal the birth of an economic awakening, thousands in our communities of color are on the front line facing the pandemic, and many may not recover from its devastating effects. 
The Centers for Disease Control (CDC) has confirmed that African Americans, Asian American & Pacific Islanders, Latinx and Native Americans represent a disproportionate 49% of COVID-19 cases.  According to the CDC, this is partly because many are essential workers whose jobs put them at a higher risk of contracting the virus.  Many of these individuals also reside in close quarter housing arrangements where exposure to the disease is more likely.  These same individuals may also lack access to health care.    
Another alarming concern is COVID-19's impact on children within communities of color.  Without access to WiFi, many could fall behind academically in the world of distance learning.  Many could go hungry if they can't get meals at school, and they may lack parental supervision during the day or evening.  This would certainly create widening disparities in academic performance between children of color and white children by worsening the achievement gap.  
According to a McKinsey & Company report titled, "The Economic Impact of the Achievement Gap in America's Schools," the long-term impact of the achievement gap will create the underutilization of a massive percentage of our population.  That will create a population that on average is less equipped to develop, master and adapt to new technologies and compete on the world stage.
While we await further government action, those of us who suffer the least from the effects of the coronavirus can act now.  Some have remained healthy and gainfully employed.  Great numbers of people are afforded the luxury to work from home, which can result in money saved.  If that sounds like you, we can make a difference for others today.  
Here is a list of 10 charities where your donations can make a difference on the front lines, in the battle against COVID-19:     
The Center for Disaster Philanthropy supports non-profits working directly with vulnerable populations to ease the economic impact of the pandemic.  
Created by the non-profit GlobalGiving, donations help stop the spread of the virus and help our communities on the front lines of the crisis.  
COVID-19 Frontline Health Worker Fund
Workers in hospitals and clinics are putting themselves at risk to fight the virus.  This fund was created to support the urgent needs of frontline healthcare professionals. 
The coronavirus has not spared young people who are experiencing homelessness.  Covenant House is helping vulnerable youth in cities across the country with housing and support services.
Across the country, Direct Relief is giving tremendous help to communities by providing protective gear and other medical essentials to health care workers.  
Latinx and African-American communities are struggling with hunger at higher rates, including children of color.  Feeding America will guide you to your nearest local food bank.    
National Domestic Workers Alliance Coronavirus Care Fund
Home health care workers, nannies and house cleaners are among the hardest hit by the virus.  Assistance from CCF provides emergency aid to this critical group of essential workers.  
Working to ensure that all children receive three healthy meals a day, No Kid Hungry provides assistance to more than 1,200 schools across all 50 states, the District of Columbia, Guam and Puerto Rico.  
Salvation Army National COVID-19 Relief Efforts
A special fund helps the Salvation Army safely shelter the most vulnerable, serve first responders, feed the hungry and provide other critical services.
World Central Kitchen (WCK) is a part of the #ChefsForAmerica nationwide emergency relief food program.  They purchase meals from local restaurants and deliver them to Americans in need.  
These 10 organizations are among the many places where you can donate your resources. You can also choose to donate plasma or blood to help others in need.  Regardless of how you decide to give, your generosity is appreciated and helps our country and communities that need support.      
The information herein is for illustrative purposes only. The information contained in this report has been gathered from sources we believe to be reliable, but we do not guarantee the accuracy or completeness of such information. This is a general education article, and should not be construed as advice specific to your personal situation.
References