The GI Bill of Rights: From America's Greatest Generation to Gen Z
By James W. Bryan, October 15, 2019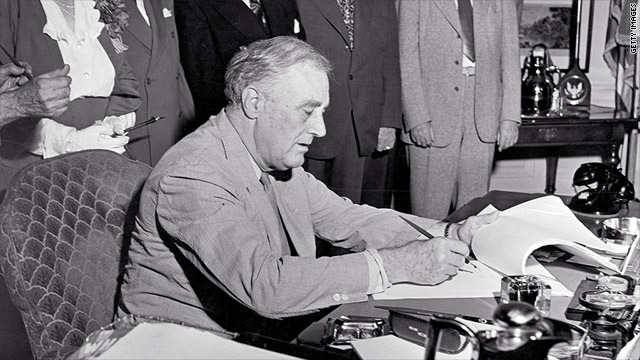 Before June 22, 1944, going to college and obtaining an undergraduate degree was reserved for the privileged few.  It was a time when the middle class in America was almost non-existent. 
On that day, President Franklin D. Roosevelt signed the GI Bill of Rights (Servicemen's Readjustment Act) into law.  Of the many benefits within the bill, the most well-known are the college tuition and housing expenses paid in exchange for service in the U.S. Armed Forces.  The GI Bill of Rights (GI Bill) was beyond instrumental in lowering the barrier to education for low and middle income Americans, and remains a viable option today.   
When World War II ended, roughly eight million servicemen and women came home and transferred their skills, work ethic and leadership towards higher education. The result has been a workforce transformation that revolutionized the American economy for future generations.  
The GI Bill Has Impacted Generations
Thanks to my father, I am among the many who have benefitted from the creation of the bill.  Growing up in a working poor family with many mouths to feed, my father opted for the U.S. Navy out of high school. He eventually transferred to the Air Force, where he served as an Air Policeman and finished his duty as a Staff Sergeant E-5. After his service, Dad enrolled at Texas A&I University in Kingsville, Texas (currently known as Texas A&M University Kingsville), where he utilized his GI Bill benefits.  In 1958, he earned his B.S. in General Engineering, and, like many veterans from his generation, went on to achieve career success that trickled down to his family and grandchildren.    
Serving Your Country and Bypassing Student Loans - A Winning Ticket
Working in the financial services industry, I see daily headlines about the growing student debt crisis. Marketwatch has reported that the cost of obtaining an undergraduate degree at a public university has increased by 213% since the 1980s.  Considering that median wages haven't kept up with the inflationary rate of that cost, it is no surprise that the national student loan debt has surpassed $1 trillion.
From my perspective, if joining the Army, Navy, Air Force, Marines or Coast Guard is right for you, utilizing the GI Bill to cover the cost of your education is a winning ticket.  Sadly, a large majority of high school students are passing on this opportunity. 
Today's youth - otherwise known as Generation Z - may argue that serving their country in the Armed Forces before going to college is a choice of generations past.  College is now considered a right-of-passage for activities that exceed a studious nature: freedom as an adult, prospecting fraternities or sororities, and getting involved in other social opportunities. Before scoffing at the idea of joining the military, young adults should meet a few adults that carry student loan debt and listen to their perspective.
If serving your country is appealing and avoiding student loan debt is important to you, serving in one of the branches of the U.S. Military could be your avenue to adventure, experience and success.  Your service not only demonstrates the honor of serving and can cover the cost of post high school education, but you can also gain invaluable experience that few graduates carry on their resume.  According to military.com, employers like to hire veterans due to their unmatched loyalty, work ethic, reliability and their communication skills.
Confidence, Maturity and Discipline
My friend and neighbor, Steve Oaxaca, is a living example of a veteran who has transferred his experience from the military to his education and career.  He works as a Senior Engineering Manager at the Medtronic Corporation and came from a long line of family members who had served in the U.S. Army.  After high school, he chose to carry on the family tradition and signed up to join the Army as well.  There, Steve achieved the rank of Sergeant E-5 and served in both active and reserve duty for eight years.  His active duty time included a year at the Defense Language Institute Foreign Language Center in beautiful Monterrey, California, where he studied and became fluent in the Russian language. 
Not long after he completed his duty, Steve enrolled at The University of Nevada-Reno, where he earned his B.S. in Electrical Engineering in 2000.  He credits his success in school and career to his experience in the Army.  "I came out of the Army more confident, mature and more disciplined.  The engineering program at UNR was tough and the Army instilled the habits I needed to make it.  I had to set alarms, get up early each day, and I didn't have the luxury of going out a lot and partying like many other undergraduates."
For Steve, the benefits from the GI Bill didn't stop with the reimbursement of his education expenses.  Steve and his wife Nan were also able to buy their first home exclusively through his GI Bill Veterans Benefits.  One could say the Army taught him resourcefulness as well. He later went on to complete his M.S. in Electrical Engineering at the University of Minnesota, compliments of his employer tuition reimbursement program.
The GI Bill Education Benefits - Basic Information
There are several GI Bill programs for service members to choose from: 
Post 9/11 GI Bill
Active Duty Montgomery GI Bill
Reserve and Guard GI Bill
Vocational Rehabilitation and Training Program
Forever GI Bill
Benefits can be used for any of the following:
Associate or Bachelor degree(s)
Post undergraduate education
Vocational or Trade School training
Apprenticeship programs
Licensing and certification program reimbursement
National Testing programs
Flight training
Correspondence training
Work Study
Tuition Assistance Top-Up
Additional Military Job and Education Benefits
The Armed Forces have education and job training benefits beyond the GI Bill.  All branches offer their own variation of ROTC scholarship programs and flight training, along with many other educational and training programs for service members and their families.  Examples include:
Army Medicine Program (AMEDD)
Navy Nursing and Health Professional Scholarship Programs 
Air Force Nurse Enlisted Commissioning and Physician Assistant Training Programs 
Marine Corps Military Occupational Specialty (MOS) System
Contact your Local Armed Forces Recruiter
For more information about the GI Bill, visit https://www.va.gov/education/, or visit with your nearest Army, Navy, Air Force, Marines, or Coast Guard recruitment offices. 
Local Resources
Special thanks to the following individuals for their assistance with this post and service to our nation:
Thomas B. Schottenbauer, former PO3, U.S. Navy - Service Officer, American Legion Post 282, St. Louis Park, Minnesota
Stephen W. Oaxaca, former SGT, U.S. Army - Chaska, Minnesota
Daniel T. Clarke, SSgt, U.S. Air Force - Air Force Recruiting, Burnsville, Minnesota
The information herein is for illustrative purposes only. The information contained in this report has been gathered from sources we believe to be reliable, but we do not guarantee the accuracy or completeness of such information. This is a general education article, and should not be construed as advice specific to your personal situation.
References